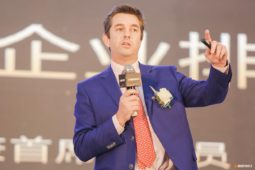 Despite talks of trade war and erratic tweets and policies by US president Donald Trump, China's rich still see in the US the preferred destination for migration, says the 2018 Hurun report on immigration and China's HNWI'd. And despite talk of the Brexit, London is moving upwards in its annual rankings, says Hurun chief researcher Rupert Hoogewerf.
The Hurun Report:
Rupert Hoogewerf, chairman and chief researcher of Hurun Report, said, "The United States is definitely the first choice for Chinese HNWIs who are considering immigration. London has risen rapidly to become the sixth most popular destination for purchasing overseas property, overtaking Vancouver, Toronto and Melbourne for the first time. It is also interesting to note that 90% of those considering immigration intend to live in China after retirement. I am delighted to release the White Paper for the fifth consecutive year in association with leading Chinese immigration brand Visas Consulting Group. We hope that this report will help Chinese HNWIs (those with family assets worth US$1.5m to US$31m) considering investment immigration make better decisions."…

This year, Visas Consulting Group and Hurun Research reveal the top ten countries that constitute the Visas Consulting Hurun Report Chinese Immigration Index 2018 (CII 2018) based on the eight categories of education, investment destination preferences, immigration policy, property purchasing, personal taxation levels, medical care, visa-free travel and ease of adaptability. The United States remains the most popular destination for HNWIs investment emigrants for the fourth year running, while the UK has risen from third place to second. Emerging immigration destinations Ireland and Greece performed well, with Ireland moving up four places to third, and Greece occupying sixth place in its debut appearance on the ranking. Canada falls two places to fourth, while Australia is down one place to fifth. Rupert Hoogewerf said, "The United States far surpasses other countries as the first choice of Chinese HNWIs in terms of immigration destinations."…

The UK climbed from third place to second with a score of 8.5. Despite the UK being set to leave the EU, London remains one of the world's leading financial centers, and British education is regarded as second only to that of the United States. Investment immigration to the UK comes with the benefits of one's children enjoying an elite British education, and of the family gaining access to its high quality medical and welfare systems. Furthermore, a favourable exchange rate makes investment in the UK more attractive. Rupert Hoogewerf said, "Brexit has had little impact on Chinese entrepreneurs. At present, British property represents good value, with uncertainty over Brexit and the weakness of the pound making it relatively cheap".
More at the Hurun 2018 Report.
Rupert Hoogewerf is a speaker at the China Speakers Bureau. Do you need him at your meeting or conference? Do get in touch or fill in our speakers' request form.
Are you looking for more stories by Rupert Hoogewerf at the China Speakers Bureau? Do check out this list.
Please follow and like us: