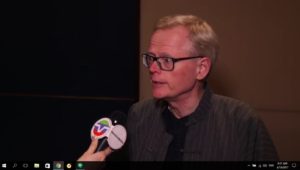 The Venerable Xuecheng did become the symbol for supercharged Buddhism in China. Journalist Ian Johnson, author of The Souls of China: The Return of Religion After Mao, looks for the New York Times at how China's #MeToo movement brought down this confusing factor in the rising Buddhism.
Ian Johnson:
Over the past two decades, religion in China has boomed, and no faith has benefited more than Buddhism. The number of temples has tripled, monks and abbots have become well-known public figures, and China has used the faith to build ties around the world, sending out nuns and monks on goodwill missions.

The person most closely associated with this revival is the Venerable Xuecheng, a charismatic monk who was fast-tracked for success. He became abbot of his first temple at 23 and head of the Communist Party-run Buddhist Association of China at 49.

His use of social media and emphasis on compassion attracted the sort of bright, white-collar professionals who once spurned traditional Chinese religions. Many rank him as the most important Chinese Buddhist reformer in a century.

But over the summer, all of these worldly successes vanished.

Accused of lewdness toward nuns and financial misconduct, Xuecheng, 52, has in recent weeks been stripped of his titles and banished to a small temple in his home province of Fujian. Government investigators now occupy the cleric's main temple in Beijing, have purged his cadre of loyal monks and are scouring his books for financial wrongdoing.

That makes Xuecheng the most important national leader to be felled in China's small but tenacious #MeToo movement, a rare case of a politically connected figure here falling to charges of sexual misconduct.

It has also prompted widespread discussion among Buddhists about whether their faith's rapid growth has come at too steep a cost.

Many worry that Xuecheng's model of a supercharged Buddhism that embraces social trends lacks the very spirituality that drew people to the faith in the first place. His downfall also presents a potential setback in the Chinese government's efforts to push Buddhism as a kind of national religion that can win friends abroad and offer moral values at home.

"It's impossible not to feel pained and sorrowful" at recent developments, two monks wrote in a 95-page report detailing accusations of sexual and financial misdeeds against Xuecheng. They asked the government to act quickly, or "we dare not imagine where Xuecheng will lead this group of Buddhists!"
Ian Johnson is a speaker at the China Speakers Bureau. Do you need him at your meeting or conference? Do get in touch or fill in our speakers' request form.
Are you looking for stories by Ian Johnson at the China Speakers Bureau? Do check out this list.
Please follow and like us: