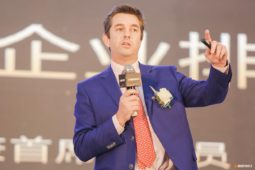 The number of wealthy families on Greater China has grown in 2017, but growth is dropping and might even be lower in 2018 caused by the trade war and declining economic growth, says Rupert Hoogewerf, chairman of the Hurun China Rich List according to Barrons in a new report released this week.
Barrons:
The number of ultra-high net-worth families in Greater China—those with at least US$30 million—reached 88,800 in 2017, rising 12.5% year-over-year, according to a Hurun Wealth Report released Tuesday.

Beijing has 13,500 ultra wealthy families, the highest concentration in the region including China's mainland, Taiwan, Hong Kong, and Macau. Compared to last year, the number in Beijing increased 19.5% or 2,200 families.
Shanghai placed second, with 12,000 families worth more than US$30 million, a number that increased 16.5%. It's followed by Hong Kong, which has 8,500 ultra-wealthy families, increasing 6.3%.

The wealth increase is largely attributable to China's economic growth and bull market throughout 2017, the report said. Last year, China's GDP increased 6.9%, while both Shanghai and Shenzhen stock markets were up around 7%. The Hang Seng Index, the major stock market barometer in Hong Kong, soared 36%.

However, growth is expected to slow down in 2018, impacted by a potential U.S.-China trade war and a slumping stock market, the report said.

"The number of high-net-worth families grew at a lower pace in 2017 than the prior year," says Rupert Hoogewerf, the Hurun Report's chairman and chief researcher. "The potential U.S.-China trade war will certainly impact the wealth creation in 2018."

The tension has already caused stock markets in Greater China to tumble. By early November, the Hang Seng Index fell more than 10%, the Shanghai Stock Exchange Composite Index and Shenzhen Component Index fell 20% and 30% respectively over the same period of time, according to the report.
Rupert Hoogewerf is a speaker at the China Speakers Bureau. Do you need him at your meeting or conference? Do get in touch or fill in our speakers' request form.
Are you looking for more stories by Rupert Hoogewerf? Do check out this list.
Please follow and like us: