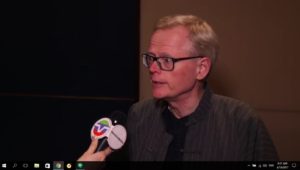 Journalist Ian Johnson, author of The Souls of China: The Return of Religion After Mao, did spend much time with pastor Wang Yi and his Early Rain Covenant Church during his research of his book. Now the government is cracking down, it means a drastic change of attitude by the authorities, but Johnson does not expect the religious revolution in China is over, he writes on his website.
Ian Johnson:
One of the main characters in The Souls of China is Wang Yi, a dynamic pastor in the southwestern city of Chengdu.
In the book, I followed him and his congregation, Early Rain Covenant Church, for more than a year in 2012 to 2013, and was amazed at how he managed to walk a fine line, almost being arrested but managing to stay out of jail and continue to lead what became a huge church of more than 500 people–all outside government control. This included a seminary, grade school, and eventually a second church.

Wang Yi wasn't perfect. He was arch-conservative, once expelling a couple from the church because the wife had studied theology and wanted to preach. I also found him infuriatingly judgmental about other faiths and at times dictatorial. It often felt that he had some of the excessive fervor of the newly converted.

But he was also one of the most gifted and intelligent pastors I had ever come across. Maybe because of his background as a human rights lawyer, or just because he was filled with the Holy Spirit, Wang Yi gave riveting sermons about a huge variety of topics, from problems in society to Biblical history. I felt I learned more from him than probably from any other pastor, and it made me wish I lived in Chengdu–he made you want to go to church, and I could see why his church was such a success.

For my book, he and Early Rain were ideal to profile. The church represented an important trend–the rise of big, urban churches that attracted increasingly well-educated white-collar Chinese people. And while Wang Yi's overt political orientation wasn't typical of most pastors, it was still a key part of the story of faith's rise in China. It's no coincidence, for example, that about a quarter of the human rights (weiquan) lawyers in China were Christian…

If in the past the government had a relatively laissez-faire attitude toward all religions–viewing them all skeptically but largely tolerating them–now we are in an era where some religions will be in ever-deeper conflict with the state and others will be courted by it. Unfortunately for Wang Yi, his faith–Christianity–is on the wrong side of this divide.
Ian Johnson is a speaker at the China Speakers Bureau. Do you need him at your meeting or conference? Do get in touch or fill in our speakers' request form.
Are you looking for more political experts at the China Speakers Bureau? Do check out this list.
Please follow and like us: