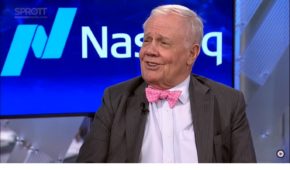 Renowned investor Jim Rogers has been proposed as an independent director at the South-Korean resort operator  Ananti, anticipating a future opening up of North Korea. South-Korean media have been cheering after the proposal was announced, and its shares soared.
The Pulse News:
The company announced in a regulatory filing on Monday that it will put the plan to a shareholder vote on Dec.27. Market experts expect that the shareholders are highly likely to approve the plan as Rogers' join could significantly enhance the company's corporate value.

On Tuesday, shares of Ananti on the nation's secondary Kosdaq market soared 26.77 percent to close at 12,500 won.

The recommendation came amid thawing inter-Korean relations this year, according to sources. Ananti hopes to receive various advices from Rogers regarding its investment plan on North Korean businesses, while Rogers is expected to look for investment opportunities by closely watching how the inter-Korean cooperation unfolds.

Market watchers at home and abroad also speculate that the movement might signal an easing of sanctions against North Korea and resumption of inter-Korean economic cooperation. The legendary investor said during an interview with Maeil Business Newspaper in July that North Korea would follow the footsteps of China which has showed an explosive economic growth over the past 40 years after establishing a series of diplomatic relations with Western countries in the 1980s.
Jim Rogers is a speaker at the China Speakers Bureau. Do you need him at your meeting or conference? Do get in touch or fill in our speakers' request form.
Are you looking for more stories by Jim Rogers? Do check out this list.
Please follow and like us: