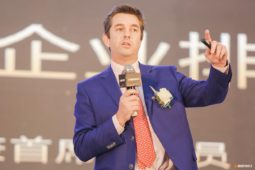 The number of billionaires from China might be growing fast, US billionaires still earn far more, says Hurun China Rich List founder Rupert Hoogewerf to the Washington Post. The wealthiest in China was e-commerce giant Alibaba's founder Jack Ma, the world's 22nd-most-wealthy person, with US$39 billion.
The Washington Post:
The biggest gains in wealth last year came in the areas of technology, media and telecommunications, followed by real estate and other investments, manufacturing and retailing.

The wealthiest in China was e-commerce giant Alibaba's founder Jack Ma, the world's 22nd-most-wealthy person, with $39 billion. Pony Ma Huateng of the Internet giant Tencent Holdings, with $38 billion, and Xu Jiayin of property developer Evergrande, with $37 billion, were close behind.

Though people in China and other Asian nations are steadily gaining in wealth, Amazon founder Jeff Bezos topped the global chart for the second year running, with wealth estimated by the Hurun rich list at $147 billion. Bill Gates ranked second, with $96 billion, and Warren Buffett was third, with $88 billion.

Gates' fortune rose by $6 billion in 2018 despite his enthusiasm for philanthropy, said Hurun Report Chief Executive Officer Rupert Hoogewerf.

President Donald Trump's wealth fell by $500 million last year, the report said, to $3 billion, or 793rd.

The only Asian among the 10 richest people in the world was Mukesh Ambani of Indian conglomerate Reliance Industries, who ranked No. 8 with wealth estimated at $54 billion.

"Poor stock market performances and an appreciating dollar were the main reasons for this year's record drop in billionaires," Hoogewerf said in a statement. "Despite the strong dollar and its tax cuts, the USA added only 13 billionaires, but made it harder for the rest of the world to make the cut."

Overall, the report said, there were 2,470 billionaires in the world, down 224 from last year. Their total overall wealth fell by $950 billion from the year before, to $9.6 trillion, because of stock market gyrations and a strong U.S. dollar, it said.

Hoogewerf said he believes that the world's billionaires may number more than 6,000 people, since many seek to hide the extent of their wealth, especially in the Middle East. Forty billionaires from last year's list died in 2018.

The newly minted Chinese billionaires included Colin Huang Zheng of e-commerce platform Pinduoduo and restaurant-group owner Zhang Yong and his, wife Shu Ping. Others were Zhang Yiming of ByteDance, an Internet technology firm valued at $75 billion, and Zhan Ketuan of bitcoin miner Bitmain.
Rupert Hoogewerf is a speaker at the China Speakers Bureau. Do you need him at your meeting or conference? Do get in touch or fill in our speakers' request form.
Are you looking for more stories by Rupert Hooogewerf? Do check out this list.
Please follow and like us: