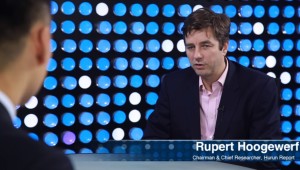 China's philanthropists spend most of their money on education, followed by poverty alleviation, says the 2019 Hurun Philanthropist List, according to the Shanghai-based Hurun chief researcher Rupert Hoogewerf in a press release. Automotive executive of China's largest auto components company Wanxiang Group tops the list with US$720 million.
Hurun:
Lu Weiding, chief executive of China's largest auto components company Wanxiang Group, became the country's most generous philanthropist, with a single donation of US$720 million in the year ending March 31, according to Hurun Philanthropist List.

Lu, 48, nicknamed "Auto Parts King," made the donation through shares of a subsidiary that went public to a charitable trust in memory of his father, Lu Guanqiu.
Lu Guanqiu founded Wanxiang in Hangzhou, Zhejiang, with about US$500 in 1969, which is about US$3,500 in 2019 dollars. He grew the company from a farm tool manufacturer into a multinational conglomerate with business in auto parts, real estate, agribusiness, and finance. He died in 2017 at age 72.

Lu Weiding and his family has a net worth of US$6.5 billion, according to Hurun's estimate.

Occupying the second spot on the 2019 Hurun Philanthropist List was Chen Yidan, 48, co-founder of Chinese internet giant Tencent Technology, based in Shenzhen. He made a US$500 million gift, mainly made up of Tencent shares. In 2016, he established the Yidan Prize with a US$320 million donation, giving US$2 million each year to two individuals who make significant contributions to education.

Xu Jiayin, 61, ranked third with a US$230 million donation. Xu has a net worth US$37 billion through his 77% stake in the Guangzhou-based Evergrande Group.

In total, 114 Chinese philanthropists donated US$3 million or more in the year leading up to March 31, according to Hurun, which began to compile the list 16 years ago. Total donations, based on cash, cash equivalents, and legally binding commitments, were down 3% year-over-year to US$3.2 billion.

"The preferred cause of China's top philanthropists has been education, although poverty alleviation has grown dramatically to become the second most popular cause this year," said Rupert Hoogewerf, chairman and chief researcher of Hurun Report, in a news release.

Education accounted for 35% of total donations. while the proportion of donations to poverty alleviation increased to 29% from the 18% reported a year ago.
Rupert Hoogewerf is a speaker at the China Speakers Bureau. Do you need him at your meeting or conference? Do get in touch or fill in our speakers' request list.
Are you looking for more stories by Rupert Hoogewerf? Do check out this list.
Please follow and like us: