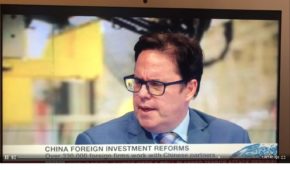 China's new foreign investment law will go in to practice on January 1, 2020, replacing three older laws. China veteran and lawyer Mark Schaub looks at the law in details, and sees improvements, he writes at the China Law Insight.
Mark Schaub:
It has been more than two months since China's new Foreign Investment Law (FIL) was passed at the second session of the 13th National People's Congress (NPC) of China on 15 March 2019. Some thought the FIL was an indication that the US-China trade talks would soon be wrapped up. This is unlikely. Despite this the FIL has shown China reiterating a willingness to deepen reform and open up its economy.

The FIL, to be effective on 1 January 2020, is largely welcomed globally. It shows the Chinese government's addressing concerns voiced by international companies such as forced technology transfers; level playing field for foreign invested companies; protection of intellectual property rights and access to public procurement projects.

In respect of improving the protection of IP rights China has emphasized – as much for its internal development as to placate overseas rights holders – on improving the rights of IP holders as well as the enforcement of such rights. Problems still exist but the situation is far better than it was even 5 years ago. China's government also moved to remove requirements that forced technology transfers (i.e. time limits; continued use after expiration; ownership of improvements; etc.).
Much more at the China Law Insight.
Mark Schaub is a speaker at the China Speakers Bureau. Do you need him at your meeting or conference? Do get in touch or fill in our speakers' request form.
Are you looking for more stories by Mark Schaub? Do check out this list.
Please follow and like us: