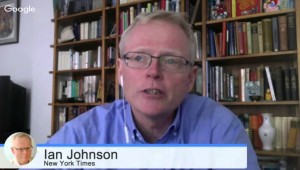 The first ordination of a bishop, Father Yao Shun, approved by the Pope and the central government is good news for the Vatican, says journalist Ian Johnson, author of The Souls of China: The Return of Religion After Mao, to AFP. 
AFP:
State media reports said another Chinese bishop was set to be ordained Wednesday, although the official church did not confirm this.

Pope Francis recognised seven clergy appointed by China as part of the September deal, despite fears the accord would be used by Beijing to further crack down on worshippers outside the official church.

"The consecration of Father Yao Shun is good news for the Vatican," said Ian Johnson, an author who writes on Chinese religion.

"This was someone they wanted installed in office and now Beijing has allowed that to happen. It shows that the compromises are not all one-way, which is how some of the Pope's critics have portrayed the deal."

Although ties have improved as China's Catholic population grows and the Vatican intensifies efforts to restore relations, tensions remain.

The Vatican is the only European diplomatic ally of self-ruled Taiwan, which is viewed by China as a breakaway province awaiting reunification.
Ian Johnson is a speaker at the China Speakers Bureau. Do you need him at your meeting or conference? Do get in touch or fill in our speakers' request form.
Are you looking for more strategy experts at the China Speakers Bureau? Do check out this list.
Please follow and like us: