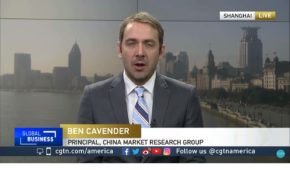 The effects of a slowdown in China's economy on foreign companies might vary, on the industry they are working in and on their size, says Shanghai-based business analyst Ben Cavender to Reuters. Smaller firms might close down, while larger ones try to diversify over time, he adds.
Reuters:
Growth in the stickier foreign direct investment (FDI), however, has been trending lower. Net FDI, as per Nomura estimates, will more than halve this year to $40.3 billion.

Ben Cavender, Managing Director of consultancy China Market Research Group (CMR), said that although it would take time for big global firms to diversify part of their capacity out of China if the trade war drags on, smaller players will more likely shut their China business.

"Any time you have government policy frictions like this, it tends to slow down FDI and so I think that's the reality. The other reality is that the Chinese economy is slowing down, and so is the return on investment," he said.
Ben Cavender is a speaker at the China Speakers Bureau. Do you need him at your meeting or conference? Do get in touch or fill in our speakers' request form.
Are you looking for more strategic experts at the China Speakers Bureau? Do check out this list.
Please follow and like us: