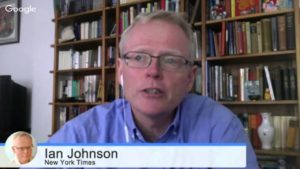 Journalist Ian Johnson, author of The Souls of China: The Return of Religion After Mao interviews author and journalist Yuan Ling after he got into quarantine in his home province Shaanxi. "The virus has already had a deeper impact on the people than even the [2008] Sichuan earthquake [that killed 69,000]," Yuan Ling tells Ian Johnson on the phone, for the New York Review of Books.
Ian Johnson:
Ian Johnson: You're now back in your home province, Shaanxi, but why are you under quarantine?

Yuan Ling: I took the high-speed rail and they said it was dangerous for spreading the virus. So I'm here in my apartment doing nothing.

That's hard to believe.

In fact, I have had a chance to think and reflect. In the past, when writing about the realities in China, it was hard to find a milestone-type of event that has significance as a topic for writing. Sometimes you think there is a key event, but its significance disappears very quickly because, no matter what happens, there's always the opposite argument and explanation. Things that you think matter often don't matter to others. Even with big topics like the Cultural Revolution, some think it's good, some think it's bad, and others think it's best not to discuss it. So it has been hard to find a starting point.

But the virus has already had a deeper impact on the people than even the [2008] Sichuan earthquake [that killed 69,000]. The virus causes isolation and shutdown, which mirrors the isolation and shutdown in Chinese society, and also because it was directly the result of controlling speech and clamping down on "rumors." Everyone is isolated, even though it's not necessary. This is symbolic. During normal times, people aren't free but they don't feel it, but now everyone feels their unfreedom.

You've written both fiction and nonfiction. What would be the best way to approach Wuhan?

I interviewed a family in Wuhan. The grandmother got sick and died. Both parents are also sick but are away. When they finally got beds in the hospital, the child, who is only eighteen years old, now needs to shoulder a lot of responsibilities. I wrote a nonfiction story like that for Phoenix News.

But I don't emphasize the boundary between nonfiction and fiction. I hope I can write a novel in the future with a core that touches on the truth about China's real problems and is based on real things, instead of escaping reality in order to achieve literariness. We need to transcend the boundaries between nonfiction and fiction and reflect truth and be thought-provoking. Camus was a philosopher who wrote novels. His value lies not in the novels themselves but in how he brought up social issues and thought about the human condition.

A lot of people are talking about Camus and his novel The Plague. But you told me earlier that you're reading Paul Celan [the Romanian-born German language poet and translator]. Why is he significant to you?

Celan lived through the Holocaust. China also has experienced many tragedies. Our writing is an act of reflection and persistence after these tragedies. It's not some cheap praise for the glories of mankind. As we see in the Wuhan crisis, pessimism, desperation, and cheap praise are not good. We need to take part of the responsibility for the tragedies and reflect on them.

Paul Celan also reflected on whether God exists or not, the state of the world, the absurdity of the world. He had his doubts, and we share similar questions: Will the future be better? Is there hope? We live in all kinds of doubts. If we can keep writing and thinking while doubting, then writing is significant in itself.

I think that should be our attitude toward China's reality: neither pessimism and disappointment nor cheap praise and optimism. So his influence on me is substantial, because Celan takes a truthful approach.
An introduction on Yuan Ling and more of the interview at the New York Review of Books.
Ian Johnson is a speaker at the China Speakers Bureau. Do you need him at your meeting or conference? Do get in touch or fill in our speakers' request form.
Are you looking for more experts on the fallout of the corona crisis in China? Do check out this list.
Please follow and like us: