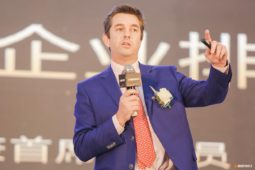 Digital insurance has become one of the post-corona winners in China, says Rupert Hoogewerf, chief researcher of the Hurun China Rich List as his firm published the first list of top-10 digital insurers, according to Asia One.  Health insurance was one of the key winners, he says.
Asia One:
The post-pandemic era has seen health becoming one of the hottest topics and diversified insurance products, said Rupert Hoogewerf, the chairman and chief researcher of Hurun Report. Quoting statistics from Insurance Association of China, Hoogewerf said Chinese insurers' premium income increased by 6.5 percent year on year to 2.7 trillion yuan in the first half of the year.

Insurance agencies have played a crucial part in insurance purchases, whose premium income has accounted for over 80% of the total premium income for the past consecutive years, Hoogewerf noted, adding that the practice of independent service providing and marketing has shaped the insurance sector, and, at present, near 70% of China's 700 national insurance agencies are eligible to market online.

Digital insurance in China has enjoyed leap-forward development in the past years, Hoogewerf said. He further explained that, besides internet giants Baidu, Alibaba, Tencent and JD.com, Ctrip, Didi, Meituan and other platforms have rolled out insurance services. Relying on massive active users and taking advantages of big data and cloud computing technologies, those companies have designed insurance products in accordance with the consumption scenarios of their original platforms, including entertainment, shopping, travelling and mutual health aid, to meet the insurance needs of different customer groups, said Hoogewerf. For instance, Hoogewerf added, Ant Insurance provides shipping insurance for online shopping and Ctrip offers insurance for flight accidents and delay.

In digital insurance business, there are other companies that worth gaining people's attention, such as scenario-based health insurance marketing agencies represented by Qingsong Health Group's insurance platform, and China's earliest online platforms that obtained online insurance brokerage licenses represented by Huize Insurance, said Hoogewerf.
More (including the top-10) at Asia One.
Rupert Hoogewerf is a speaker at the China Speakers Bureau. Do you need him at your (online) meeting or conference? Do get in touch or fill in our speakers' request form.
Are you looking for more experts on the corona virus crisis at the China Speakers Bureau? Do check out this list.
Please follow and like us: