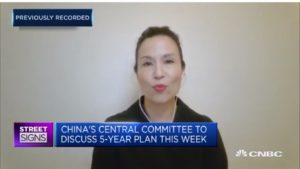 China's leadership is this week drafting its new 5-year plan. Financial analyst Sara Hsu expects an ongoing shift from an export-driven economy to more domestic consumption, she tells at CNBC International. "China realizes it cannot rely on export as it did in the past," she says.
Sara Hsu is a speaker at the China Speakers Bureau. Do you need her at your (online) meeting or conference? Do get in touch or fill in our speaker's request form.
Are you looking for more financial experts at the China Speakers Bureau? Do check out this list.
Please follow and like us: