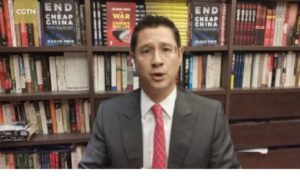 Western media have been speculating about the whereabouts of Alibaba's founder Jack Ma after he disappeared from the limelight months ago. Ma did get a dressing down from the government after he ushered criticism, says Shanghai-based business analyst Shaun Rein to AP. Ma is laying down, but there is no reason he is in real problems, Rein adds.
AP:
Some see Ma's travails as a warning from the ruling Communist Party that even a wildly successful entrepreneur can't publicly defy regulators. But finance experts said President Xi Jinping's government already was uneasy about Alibaba's dominance in retailing. As for Ant, regulators worried it might add to financial risks seen by the ruling party as one of the biggest threats to China's economic growth.

Shaun Rein, a business consultant in Shanghai who said he meets Alibaba managers and people who know Ma, said none of them reports the billionaire is in legal trouble.

"They spanked him. He's learned his lesson, and that's why he's been quiet for the past two months," said Rein, founder of China Market Research Group. "Some of his friends told me they can't believe how stupid he was."

Ma, 56, stepped down as Alibaba's chairman in 2019 but is part of the Alibaba Partnership, a 36-member group with the right to nominate a majority of its board of directors. He is one of the biggest shareholders…

The anti-monopoly investigation of Alibaba announced in December targets its policy that prohibits vendors and other business partners from dealing with its competitors.

Foreign investors were rattled, but Chinese businesspeople are "quite happy" with the crackdown, said Rein.

"A lot of people saw Alibaba and Tencent as monopolies and stifling competition," he said.

Ma's high profile is unusual in a society where folk wisdom warns, "a man fears getting famous like a pig fears getting fat." Others such as Tencent founder Ma Huateng, who is no relation to Jack Ma, are known for avoiding reporters and public appearances.
Shaun Rein is a speaker at the China Speakers Bureau. Do you need him at your (online) meeting or conference? Do get in touch or fill in our speakers' request form.
Are you looking for more strategic experts at the China Speakers Bureau? Do check out this list. 
Please follow and like us: