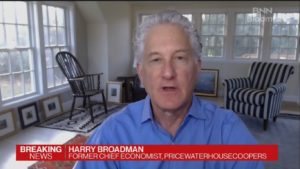 Former US President Donald Trump tried to derail relations with China by banning stocks from Chinese companies at US stock markets. Now, under President Joe Biden, certainty for stock markets including the Chinese shares is key, says former White House advisor Harry Broadman at US News. Although there might be some other dangers.
US News:
The use of investment bans on Chinese stocks is a "curious tool," says Harry Broadman, managing director with Berkeley Research Group, who has served in two White House administrations. He was chief of staff of the president's council of economic advisers under President George H. W. Bush and then served as a U.S. assistant trade representative under President Bill Clinton.
"One would think having U.S. investors in [Chinese] firms could produce salutary outcomes for people interested in reforms," Broadman says.
"You don't need a Ph.D. in economics to understand that if you're going to continue to change the regulatory treatment, including the listing and delisting of firms," uncertainty will follow, Broadman says…

Another risk that's generally well understood by investors is the tight control that Chinese President Xi Jinping and the Chinese Communist Party have over industries within their borders. Investors can't expect to challenge unfair government policies with sound legal maneuverings as they might in the U.S.; China's whims instantly become reality – just ask Jack Ma, the majority shareholder in Ant Group, whose IPO was unceremoniously put on ice in the wake of Ma's criticism of Chinese regulators.

But there's another risk that's a bit more alarming, says former U.S. diplomat Broadman, and it's arguably a much bigger concern for U.S. investors than any future delisting threat.

"I've been surprised that U.S. regulators over the years have treated Chinese firms and investments as being of the same quality as firms from the EU or Brazil," Broadman says. "The notion that these firms are following international accounting rules is a bit of a fantasy," Broadman says of Chinese stocks in general.
"The reason why U.S. regulators are interested in allowing these Chinese firms to be listed is you've got U.S. stock exchanges that are in competition (with other international) equity markets," Broadman says.
"You come to the age-old question of public policy and what's the right call to make. But I see no real discussion of the quality of their accounting. And I think it's a big issue," Broadman asserts.
Harry Broadman is a speaker at the China Speakers Bureau. Do you need him at your (online) meeting or conference? Do get in touch or fill in our speakers' request form.
Are you looking for more experts on the trade war between China and the US? Do check out this list.
Please follow and like us: