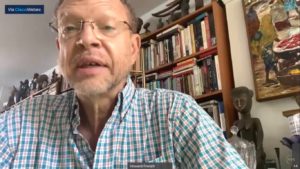 The G7 is trying to offer an alternative to China's global expansion by the Belt&Road Initiative (BRI) but has a hard time finding the right approach. Former China and Africa correspondent Howard French discusses the dilemma's at a podcast by the Brooking Institute.
DAVID DOLLAR: Hi, I'm David Dollar, host of the Brookings trade podcast Dollar & Sense. Today, my guest is Howard French, a professor at the Columbia Graduate School of Journalism and a longtime journalist and observer of both China and Africa. He's really the ideal person with whom to have a conversation about China's activity in Africa. In particular, what caught my eye recently was an essay Howard wrote in The World Politics Review with the provocative title "Leave Infrastructure to China and Compete Where the West Has More to Offer." This was after President Biden's trip to Europe where he launched an initiative that's seen as a counter to the Chinese Belt and Road. So these are the topics we are going to cover today. Welcome to the show, Howard.

HOWARD FRENCH: Thank you. It's a pleasure to be with you, David.

DOLLAR: So let's start with the big picture on China's infrastructure financing in the developing world, particularly Africa. You have written about the Belt and Road. How do you see the pros and cons of this Chinese initiative?

FRENCH: As being deeply intertwined.
The full transcript of the podcast can be found here.
Howard French is a speaker at the China Speakers Bureau. Do you need him at your (online) meeting or conference? Do get in touch or fill in our speakers' request form.
Are you looking for more experts on the Belt&Road Initiative? Do check out this list.
Please follow and like us: