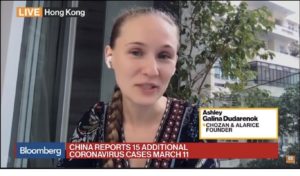 China's economy is booming and foreign brands see engaging influencers as the ideal way to enter the market. But those influencers do no come cheap, says marketing expert Ashley Dudarenok at Marketing-interactive. "You can't enter China with $10,000 US and expect to succeed," she says.
Marketing-interactive:
With China's rapid economic and social bounceback amid the ongoing global pandemic, more and more brands are feeling a sense of urgency when it comes to breaking into that market — one with a completely different set of rules and platforms when it comes to social media and how influence works.
Ashley Galina Dudarenok is the founder of Alarice & ChoZan, specializing in digital marketing and strategy for brands in the Chinese market. Her 500+ page quarterly report on all things marketing in China is highly respected, and offers insights for brands who want to do exactly that.

When it comes to breaking into China's influencer market, Dudarenok is firm: It won't be cheap.

"You can't enter China with $10,000 US and expect to succeed," she says. Brands are playing a whole different ballgame with influencers there, many of whom have even launched their own brands to control all elements of the business in-house…

Influencer marketing has evolved quickly in China, and with influencer incubators becoming a regular step to a career in the country,, there is a larger crop of "micro-KOLs" available for brands who wish to sell themselves across platforms like WeChat, Douyin, and Taobao.

In her book, Working with Bloggers, Influencers and KOLs, Dudarenok notes that micro-KOLs are "attractive to younger consumers who see themselves as more independent and less prone to the influence of commercial interests and personalities."

However, it's true in China as it is elsewhere that it's a combination of top-tier, mid-tier and micro-KOLs that offers the best solution, so, be prepared to spend.
More at Marketing-interactive.
Ashley Dudarenok is a speaker at the China Speakers Bureau. Do you need her at your (online) meeting or conference? Do get in touch or fill in our speakers' request form.
Are you looking for more marketing experts at the China Speakers Bureau? Do check out this list.
Please follow and like us: