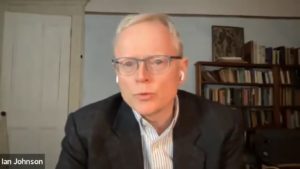 When China won 2015 the Beijing Winter Olympics in 2022, it was seen as a huge win after the successful 2008 Olympics. But the event has developed into a major headache, and it is not only because of the coronavirus, writers CFR-scholar Ian Johnson on the CFR website.
Ian Johnson:
The reality is that these games have become yet another burden that China has to bear. In 2008, when Beijing hosted the summer games, a sense of excitement was palpable in Beijing and even in places such as Hong Kong, where many felt proud that China was hosting the world's biggest sporting event. Contrast that with today, when the city-state's independent political and cultural scene have been destroyed, as part of Beijing's intolerance of any pluralism. While many Chinese people are still proud of their country's accomplishments, the games will be yet another chapter in China's forever lockdown.

None of this could have been foreseen in 2015. But big events have a way of developing their own dynamic.

The games may go off without a hitch, Xi will gain his third term later this year, and China's authoritarian turn will seem unstoppable. If that happens, the games may be seen as a sign of China's ability to forge alliances and stare down global criticism. The leaders who join Xi on the reviewing stand may even become symbolic of a new alliance of authoritarian states that support each other's undemocratic practices.

But China might not be the master of events. Some athletes might break rules and protest, despite the International Olympic Committee and the Chinese government warning against such moves. The pandemic, which the government has so far held at bay, might slip through, and cause a major outbreak, perhaps not in Beijing during the games, but afterwards.

And on some deeper level the games might cause some ordinary Chinese people to wonder why the leadership is fixated on parades and congresses and lockdowns instead of reopening the country and returning it to the conditions that has seen it flourish for the past four decades.
Ian Johnson is a speaker at the China Speakers Bureau. Do you need him at your (online) meeting or conference? Do get in touch or fill in our speakers' request form.
Are you looking for more strategic experts at the China Speakers Bureau? Do check out this list.
Please follow and like us: