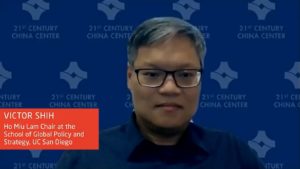 Political scientist Victor Shih discusses his upcoming book, Coalitions of the Weak, on the road from Mao Zedong to Xi Jinping, who will likely enter his third term as China's undisputed later in 2022.
About the book:
For the first time since Mao, a Chinese leader may serve a life-time tenure. Xi Jinping may well replicate Mao's successful strategy to maintain power. If so, what are the institutional and policy implications for China? Victor C. Shih investigates how leaders of one-party autocracies seek to dominate the elite and achieve true dictatorship, governing without fear of internal challenge or resistance to major policy changes. Through an in-depth look of late-Mao politics informed by thousands of historical documents and data analysis, Coalitions of the Weak uncovers Mao's strategy of replacing seasoned, densely networked senior officials with either politically tainted or inexperienced officials. The book further documents how a decentralized version of this strategy led to two generations of weak leadership in the Chinese Communist Party, creating the conditions for Xi's rapid consolidation of power after 2012.
You can watch the whole session here.
Victor Shih is a speaker at the China Speakers Bureau. Do you need him at your (online) meeting or conference? Do get in touch or fill in our speakers' request form.
Are you looking for more political experts at the China Speakers Bureau? Do check out this list.
Please follow and like us: