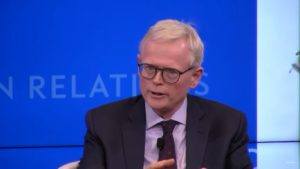 U.S. Secretary of State Antony Blinken gave last week his grand speech on the US-China strategy. It was not only one year delayed, but also offered no new policies, says CFR scholar Ian Johnson in a first analysis at the website of the Council on Foreign Relations.
Ian Johnson:
In its more developed iteration, the policy focuses mainly on non-China actors. The first is "invest", which calls for the United States to invest more in high tech and other future-oriented industries so it can compete with China. However, Washington's political paralysis is leaving new investment packages dead for the foreseeable future, barring a Democratic victory in the upcoming midterm elections.

The second ("align") is about finding allies who oppose China's vision of authoritarian-based development. Here, Blinken stood on much firmer ground. He outlined steps the administration has taken to link up countries with shared interests. This includes the newly announced Indo-Pacific Economic Framework, the Australia-UK-U.S. (AUKUS) military cooperation scheme, and expanded collaboration through the Quad.

The third pillar ("compete") unites the first two to challenge China. The goal, he emphasized, is not to isolate or harm China, but to uphold the rules-based international order that led to China's rise. Another goal is to offer developing countries alternatives to China's Belt and Road Initiative.

Blinken listed areas where the United States and China could cooperate, but they were largely familiar issues that have gotten little real traction. They include climate change, COVID-19, nuclear proliferation, synthetic drugs, and the emerging global food crisis.

Even more telling was the lack of discussion on tariffs. Some officials, such as U.S. Trade Representative Katherine Tai, favor keeping tariffs on Chinese goods in place, while others, such as Treasury Secretary Janet Yellen, have come out against them.
Ian Johnson is a speaker at the China Speakers Bureau. Do you need him at your (online) meeting or conference? Do get in touch or fill in our speakers' request form.
Are you looking for more strategic experts at the China Speakers Bureau? Do check out this list.
Please follow and like us: