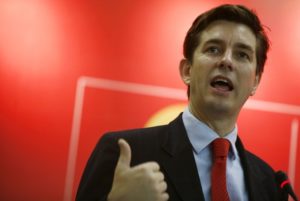 The metaverse will change the industry dramatically, says Rupert Hoogewerf, chief researcher at the Hurun Rich List. Earlier he released a China company list with the highest metaverse potential. He now zooms into the Guangzhou Metaverse Innovation Alliance, writes the China Daily.
The China Daily:
"The cutting-edge field of the metaverse is the next important development direction for the internet industry, which will profoundly change production and lifestyle in the future, and promote future industrial development," said Rupert Hoogewerf, chairman and chief researcher of the Hurun Report.

The Guangzhou Metaverse Innovation Alliance, which was inaugurated in Nansha in March, is expected to help inject new vitality into Guangzhou's construction of a global digital economy benchmark and an international consumer-oriented city, according to Hoogewerf.

"With the release of the list of metaverse companies with the greatest potential, it is expected that more businesses in the metaverse industry will move to the district and develop there," he said.

Nansha has developed a good business environment for metaverse-related companies since it enacted competitive policies to support the industry, according to Hoogewerf.

"From technology research and development, industrial agglomeration and application scenarios to financial support, special policies from the local government will help build Nansha into a prominent location for the innovation and development of the metaverse industry," he said.

Although many companies, including some of China's largest by market capacity, have not had a specific team dedicated to the metaverse industry, they have already applied relevant technologies in some particular fields, according to Hoogewerf.

"Media and entertainment companies are at the forefront of the metaverse, using existing technologies to explore the application possibilities of the industry," he said.
Rupert Hoogewerf is a speaker at the China Speakers Bureau. Do you need him at your (online) meeting or conference? Do get in touch or fill in our speakers' request form.
Are you looking for more innovation experts at the China Speakers Bureau? Do check out this list.
Please follow and like us: