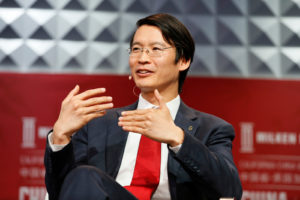 China's National People's Congress (NPC) will this week approve a significant reform of its financial institutions. Financial analyst Winston Ma looks at the background of this sweeping shift, according to Reuters.
Reuters:
Under the new set-up, the China Banking and Insurance Regulatory Commission (CBIRC) will be abolished, with its responsibilities moved to the new administration along with certain functions of the central bank and securities regulator.

As part of the wider government revamp, staff numbers at central level state institutions will be cut by 5%.

"The overhaul of financial regulation framework reflects the new focus on 'dual circulation' – both domestic and global circulation of the economy – and 'uniform national markets'," said Winston Ma, an adjunct professor at New York University law school.

"Going forward, different financing markets – equity, debt, and insurance – are set to be regulated in a more holistic way, and at the same time financial markets regulation and industry policy-making are more integrated than before," he said.

The legislature will vote on the institutional reform plan on Friday.
Winston Ma is a speaker at the China Speakers Bureau. Do you need him at your meeting or conference? Do get in touch or fill in our speakers' request form.
Are you looking for more financial experts at the China Speakers Bureau? Do check out this list.
Please follow and like us: