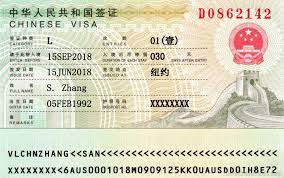 In a next step in opening up after the Zero-Covid policies were canceled in December, China will resume issuing all visas to foreigners starting March 15, including tourists, for the first time in three years time, according to the news agency Reuters.
Reuters:
The removal of this last cross-border control measure imposed to guard against COVID-19 comes after authorities last month declared victory over the virus.

Tourist industry insiders do not expect a massive influx of visitors in the short run or significant boost to the economy. In 2019, international tourism receipts accounted for just 0.9% of China's gross domestic product.

But the resumption of visa issuance for tourist marks a broader push by Beijing to normalise two-way travel between China and the world, having withdrawn its advisory to citizens against foreign travel in January.

Areas in China that required no visas before the pandemic will revert to visa-free entry, the foreign ministry said on Tuesday. This will include the southern tourist island of Hainan, a long-time favourite destination among Russians, as well as cruise ships passing through Shanghai port.
Also international flights are expect to expand, as they did up to now technically restart but were limited because of the lack of interest.
Please follow and like us: