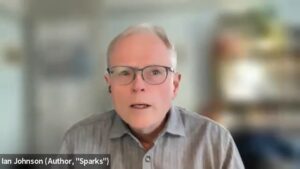 History called the communist party to save China, that is the way history is used by the party, says author Ian Johnson in a speech about his newly published book Sparks: China's Underground Historians and their Battle for the Future in WorldOregon.  But the official history doesn't remain unchallenged. "Ian Johnson explores how some of China's best-known writers, filmmakers, and artists have overcome crackdowns and censorship to forge a nationwide movement that challenges the Communist Party on its most hallowed ground: its control of history," says the website.
"Based on years of first-hand research in Xi Jinping's China, Sparks challenges stereotypes of a China where the state has quashed all free thought, revealing instead a country engaged in one of humanity's great struggles of memory against forgetting—a battle that will shape the China that emerges in the mid-21st century."
Ian Johnson is a speaker at the China Speakers Bureau. Do you need him at your meeting or conference? Do get in touch or fill in our speakers' request form.
Are you looking for more stories by Ian Johnson? Do check out this list.
Please follow and like us: