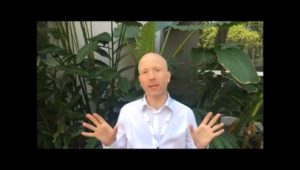 China is leading the way in digitalizing the consumer experience in retail, but both major competitors – Alibaba and Tencent – have different retail strategies, says WeChat expert Matthew Brennan to the News Lens. Alibaba focuses on the offline experience, Tencent's WeChat will stay online. In 2018 the battle will be on mobile payment, he adds.
The News Lens:
Matthew Brennan, founder of China Channel, a consultancy on China's digital market, said that the trend is apparent across all consumer-facing industries. "China is leading the rest of the world in terms of digitalizing the customer experience and blending this experience seamlessly between offline and online elements," Brennan said.

According to Brennan, retailers are moving back to offline as online growth matures – being a purely online play will no longer sustain the rapid growth that Alibaba and Tencent are used to.

Tencent's payment service, WeChat Pay, already has about 800 million users in China, and together with Alibaba's Alipay, the pair dominate China's massive mobile payment space.

The majority of retailers here, from supermarkets to street vendors, now accept either or both forms of payment. As such, the latest official data showed mobile payments reached 81 trillion yuan in the first 10 months of last year, up 40 percent on the whole of 2016.

While Tencent has its fingers in many pies, it is not a direct retailer, and instead relies on a partnership with e-commerce major JD.com in place since 2014 to drive sales through WeChat Pay.

The two companies announced in October that they would expand the cooperation via the launch of the JD-Tencent Retail Marketing Solution, which according to a press release promises to "integrate insights on consumer behavior from Tencent's social platforms with online and offline shopping data from JD and its brand partners."

Pushing into unmanned stores is thus a natural next step for Tencent as it attempts to remain relevant in "new retail" while building on its existing strength in the mobile payments market.

"WeChat does not have ambitions to open its own stores across China, Tencent's strategy is to partner with existing retail players and help digitalize the retail experience," Brennan explained. "Both [Alibaba] and Tencent are now moving into a wide variety of vertical industries for a variety of reasons, retail though is the most important battleground for 2018.

"In the short term, new retail is in large part about mobile payments. Tencent and Alibaba are blocking each other's moves to protect their market share in payments."
Matthew Brennan is a speaker at the China Speakers Bureau. Do you need him at your meeting or conference? Do get in touch or fill in our speakers' request form.
Are you looking for more innovation experts at the China Speakers Bureau? Do check out this list.
Related articles
Please follow and like us: