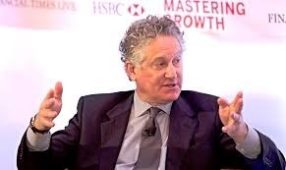 US president Donald Trump's bilateral approach for solving trade issues would have worked in 1818, not in 2018, writes China veteran Harry Broadman in the Gulf News. The US do have serious trade problems with China, but the US would be better off if Trump would be able to create more alliances.
Harry Broadman:
US President Donald Trump sees international trade negotiations as if he was living in 1818 when commerce between countries more often than not was conducted bilaterally. He's proclaimed on several occasions that he can get a far better bargain taking up trade agreements with other heads of state on a one-to-one basis.

Indeed, the US Negotiator-in-Chief is "Bilateral Man", hardly surprising for someone who cut his teeth doing one-off commercial real estate deals within the confines of New York City.

But this is 2018, and trade consummated even between two countries generally is comprised of multiple intermediate transactions mediated across several national borders. Hence, that is why the bedrock rules governing trade agreements today — embodied in the World Trade Organisation (WTO), the successor organisation to the General Agreement on Trade and Tariffs (GATT), which was founded in 1947 — are multilateral in nature and negotiated among sovereign, not business, entities.

It would appear that the modern — and yes, complex — system of trade agreements is far outside of Trump's comfort zone, perhaps even his understanding.

As indicated by his handling of the trade problems between the US and China — which are indeed serious and haven't been dealt with sufficiently by earlier administrations — his anathema towards building coalitions among the 162 other countries that are WTO members to improve governance of international trade exposes all of us to significant risks.
Harry Broadman is a speaker at the China Speakers Bureau. Do you need him at your meeting or conference? Do get in touch or fill in our speakers' request form.
Are you looking for more speakers on the US-China relations? Do check out this list.
Please follow and like us: