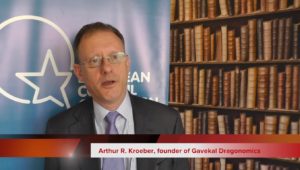 The argument of the Trump administration is simple: if you want to avoid tariffs, leave China and come back to the US. That is too simple, says economist Arthur Kroeber, author of China's Economy: What Everyone Needs to Know, at the Asia Times.
Asia Times:
There are myriad other case studies that bely US Trade Representative Robert Lighthizer's oft-stated advisory: if you want to avoid our import penalties, make things at home. To amplify the point, regulators increased scrutiny of Chinese companies investing in America and US ones selling technology to the mainland.

This choose-us-or-them policy has many problems. One, Kroeber says, is that US companies have more than $250 billion of direct investments in China, ginning up nearly $500 billion in mainland sales each year.

"For many companies, China is their biggest and fastest-growing market. In a growing number of sectors, it is simply not a viable business strategy to shun the China market."

If an American multinational isn't there, it will lose market share and profits, running afoul of shareholders. Extrapolate this dynamic a bit further, and the rising stock market Trump touts on a daily basis might not be so vibrant.
Arthur Kroeber is a speaker at the China Speakers Bureau. Do you need him at your meeting or conference? Do get in touch or fill in our speakers' request form.
Are you looking for more experts on the ongoing trade war between China and the US? Do check out this list.
Please follow and like us: