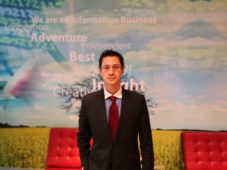 Alibaba's chairman Jack Ma announced he will turn over the reins of his company to the next generation of executives next year. But business analyst Shaun Rein, author of The End of Cheap China, Revised and Updated: Economic and Cultural Trends That Will Disrupt the World, wonders if the new generation takes over Ma's magic spell over staff, users and investors, he tells to Inkstone News. 
Inkstone News:
Analysts say while Alibaba has some of the best executives in China's tech world, it will be difficult for its next-generation leaders to fill Ma's shoes.
"Ma is critically important to the company," said China Market Research's Rein. "He is the strategic driver. He is the face of the company. He makes governments and businesses comfortable with working with it."
"Daniel Zhang does not create the same warm and fuzzy feelings," Rein said. "Consumers trust Jack Ma. It is part of their loyalty towards Alibaba."
Shaun Rein is a speaker at the China Speakers Bureau. Do you need him at your meeting or conference? Do get in touch or fill in our speakers' request form.
Chinese companies do things differently. Are you interested in experts who can help you to find out how different? Do check out this list.
Please follow and like us: