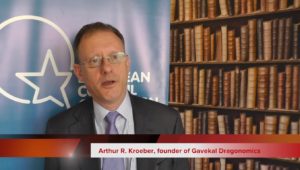 The trade war between the US and China might only be starting, the fight is going to be one for the long haul, says economist Arthur Kroeber, author of China's Economy: What Everyone Needs to Know®, according to Dow Jones. "The U.S. and China are in for a long and acrimonious confrontation," he says.
Dow Jones:
Officially, the U.S. is imposing tariffs on Chinese imports as a hard-nosed but hopefully temporary tactic to force China to treat U.S. companies and goods more fairly. Yet, Beijing has shown no sign of caving to U.S. demands that, in totality, entail a wholesale end of the industrial policy that has long guided Chinese economic development. Some suspect the U.S. goal isn't a negotiated solution, but to disentangle the two economies permanently.

"The U.S. and China are in for a long and acrimonious confrontation," Arthur Kroeber of Gavekal Dragonomics, a China-based research firm, wrote last week. This isn't driven by President Trump alone, he wrote, but "by a powerful coalition of security and economic officials who believe the U.S. is entering an existential conflict with China for global economic, technological and geopolitical dominance."..

Mr. Trump is mainly motivated by the U.S. trade deficit with China. Tariffs aren't likely to fix the imbalance: If a company shifts production from China to Vietnam to avoid U.S. tariffs, America's trade deficit with Vietnam will go up while its deficit with China goes down.

But China critics who don't share Mr. Trump's deficit obsession see a different benefit. Tariffs and other penalties, such as forthcoming restrictions on the export of key technologies, weaken China's appeal as a destination for foreign investment and start to unravel the supply chains that tie the U.S. to China. The longer tariffs remain in place, the more multinationals that want to sell to the U.S. will seek alternatives to China to source production. Taiwan and Thailand are already marketing themselves as alternatives.

Yet, moving a supply chain out of China is harder than it sounds. Mr. Kroeber notes in an interview that China doesn't offer just low labor costs, it also has well-developed infrastructure and logistics, skilled labor such as engineers, and access to China's own huge internal market. "That can't be matched somewhere else." Multinationals may need two supply chains: one with access to the U.S., and one with access to China. They would then have to decide whether their U.S.-centric or China-centric supply chain serves the rest of the world.

In the short run, China would clearly be the loser: It still depends heavily on the U.S. for intellectual property, know-how and investment, and as a market for exports.
Arthur Kroeber is a speaker at the China Speakers Bureau. Do you need him at your meeting or conference? Do get in touch or fill in our speakers' request form.
Are you looking for more experts on the trade war between the US and China? Do check out this list.
Please follow and like us: