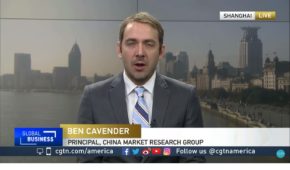 Ride-hailing company Didi Chuxing, the main competitor of Uber, is trying to move upscale, into self-driving cars, foreign cooperation and projects out of China, but at home, they still face basic challenges, says Shanghai-based business analyst Ben Cavender. Local authorities focus on illegal drivers, according to Reuters.
Reuters:
The ministry (of Transport) said that there are still a large number of illegal cars and it will urge local authorities to target unqualified drivers, which could exacerbate the shortages.

"Didi's service times have been drastically affected over the last few months following removal of drivers from the platform who did not have local registration in the cities that they were driving in," said Ben Cavender, Shanghai-based principal at China Market Research Group.

"The majority of consumers that we speak to who use ride sharing platforms used Didi first but are increasingly looking at other options."
Ben Cavender is a speaker at the China Speakers Bureau. Do you need him at your meeting or conference? Do get in touch or fill in our speakers' request form.
Are you looking for more branding experts at the China Speakers Bureau? Do check out this list.
Please follow and like us: