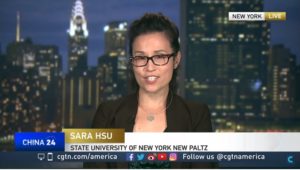 China is becoming a center point for money laundering activities from Latin America, writes the military magazine Dialogo. Financial expert Sara Hsu explains how those links could work out.
Dialogo:
In August 2018, a special jury in Colorado pressed charges against 16 narcotraffickers who moved cocaine from Mexico to the United States and laundered money through Chinese banks. The process isn't new: In 2017, the U.S. Drug Enforcement Administration (DEA) warned about criminal groups in Mexico, Colombia, and Venezuela that used their contacts with Chinese mafias to launder money through banking entities in the Asian nation.

Sara Hsu, an associate professor of Economics at the State University of New York and specialist in the Chinese financial system, explains that the Asian nation is an attractive destination to launder money coming from Latin American criminal activities. One of the reasons is the strengthened link between groups such as Mexican drug cartels and Chinese mafias.

"It's true that Chinese regulations on money laundering were less rigorous in the past," Hsu told Diálogo. "But the incentive comes from some Chinese gangs' willingness to cooperate with Latin American criminals to launder money and participate in other illegal activities. As such, they become important facilitators for Latin American [criminal] organizations."

Hsu's description fit what the DEA indicated in its 2017 National Drug Threat Assessment on the role of Chinese criminal organizations—particularly those operating in the United States—as money laundering facilitators for Latin American criminals. According to the report, Asian transnational criminal organizations (TCOs) "play a key role in the laundering of illicit drug proceeds. Asian TCOs involved in money laundering contract their services and in some cases work jointly with other criminal groups, such as Mexican, Colombian, and Dominican TCOs."

According to Hsu, some of the most common money laundering techniques are the purchase of Chinese products and fake commercial exchanges through casinos in Macau and Chinese money exchange houses.
More in Dialogo.
Sara Hsu is a speaker at the China Speakers Bureau. Do you need her at your meeting or conference? Do get in touch or fill in our speakers' request form.
Are you looking for more financial experts at the China Speakers Bureau? Do check out this list.
Please follow and like us: