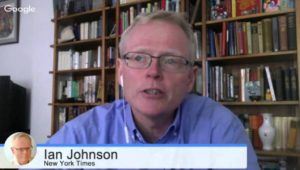 Islam has been high on the hitlist of the central government, but Christian faiths seem to get a different treatment. journalist Ian Johnson, author of The Souls of China: The Return of Religion After Mao, dives for the Independent into the differences between Protestants and Roman Catholics.
Ian Johnson:
The government seems to be handling Christianity in two different ways.

It has pursued diplomacy towards Roman Catholics, forging a deal with the Vatican that would have Rome recognise government-appointed bishops in exchange for the Vatican gaining some say in how they are appointed.

This, in theory, would bind all Catholics to the government-run church and make underground churches unnecessary.

Protestantism, which lacks a centralized structure, has had several important churches closed or destroyed, apparently as a warning.

These include a large unregistered church in Beijing, the Zion church, which was closed in September, and whose leader was placed under house arrest.

The crackdown in Chengdu appears to be of another magnitude, partially because Mr Wang is so outspoken and nationally famous.

Before converting to Christianity in 2005, he was named one of the 50 most prominent public intellectuals in China.

In 2008, Mr Wang founded Early Rain, and his sermons were often extremely topical, touching on what he saw as rampant materialism in Chinese society and the political compromises made by the government-run church.

He also opposed the common use of abortion in China, a practice pushed by the government as it sought to control the country's population. And he staunchly opposed female pastors, expelling one couple from his church because the wife had studied theology and wanted to preach.

His statements on these topics landed Mr Wang in and out of custody, and he was forbidden from travelling abroad on several occasions.

But he also advocated radical transparency, making his sermons available online and giving police names of people who attended Early Rain — an effort, he said, to avoid acting as if the church had something to hide.

After the new religious regulations were promulgated last year, however, Mr Wang's criticism of the government became increasingly strident.

Earlier this year, when China's Parliament put President Xi Jinping's name in the Constitution and lifted term limits on his office, allowing him to serve beyond his current term, Mr Wang was scathing.

"Abolishing the term limit on the leader of state does not make a leader but a usurper," he wrote. "Writing a living person's name into the Constitution is not amending the Constitution but destroying it."

Most recently, he waded into even more sensitive issues, such as the unrest in minority parts of the country.

In one sermon, he said that the government was waging war on "the soul of man" in Xinjiang, Tibet and Chinese parts of the country, but that it would fail because people would ask themselves: "In the middle of their pitiful and wretched lives, ruled by despotism, and money and power, where is your honour? Where is your dignity? Where is your freedom?"

Seemingly sensing that he could be detained at any time, Mr Wang months ago wrote a declaration to be published 48 hours after his detention.

In it, he said he was "filled with anger and disgust at the persecution of the church by the Communist regime."

It was not his role to overthrow the government, he said, though he predicted one day its rule would end.
Ian Johnson is a speaker at the China Speakers Bureau. Do you need him at your meeting or conference? Do get in touch or fill in our speakers' request form.
Are you interested in more stories by Ian Johnson? Do check out this list.
Please follow and like us: