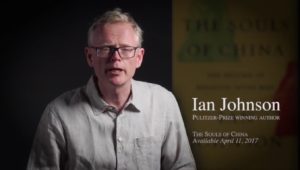 The Chinese government has raided a few popular underground churches, illustrating how it sees religion as a double-edged sword, says journalist Ian Johnson, author of The Souls of China: The Return of Religion After Mao, at NPR.
NPR:
IAN JOHNSON: I think the government sees religion as a double-edged sword.

SCHMITZ: Ian Johnson is the author of "The Souls Of China: The Return Of Religion After Mao."

JOHNSON: On the one hand, it is promoting some religions, like Buddhism and Taoism and folk religions. But in terms of these other religions that they think have too many foreign ties and can be influenced by outsiders taking a very hard-line approach, it's all part and parcel of a broader effort to control civil society.

SCHMITZ: Johnson says Chinese authorities are cracking down on churches that are not officially sanctioned by the government. Nearly half of China's 60 million Christians attend these unregistered churches. The raid on Early Rain was preceded by a raid in September by Beijing police on that city's Zion church, which had 1,500 members. In his book, Johnson profiled Early Rain's pastor, Wang Yi….

SCHMITZ: At a sermon in September, Wang called Chinese leader Xi Jinping a sinner, while congregants answer with amen. It was this, Wang's increasing political activism, that Johnson says likely contributed to his arrest.

JOHNSON: He's denounced Xi Jinping lifting the term limits on the presidency so that he could become president for life. He said that this was destroying the constitution and similar to creating a new Caesar.
Ian Johnson is a speaker at the China Speakers Bureau. Do you need him at your meeting or conference? Do get in touch or fill in our speakers' request form.
Are you looking for more political analysts at the China Speakers Bureau? Do check out this list.
Please follow and like us: