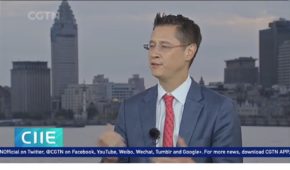 US president Donald Trump might think he is just fighting a trade war, but for China's president Xi Jinping this is going much further, says political analyst Shaun Rein to CBS news. It can be the beginning of a new Cold War or worse, he says.
CBS News:
"2019 is the year we are going to find out whether or not this is just a trade war, the beginning of a cold war, or worse," said Shaun Rein, who runs the China Market Research Group in Shanghai.

He says the Chinese government may not view this as a simple trade war but rather the United States trying to contain China's rise.

2019 marks the 70th anniversary of the Communist Party's takeover, and President Xi Jinping will want to project strength.

Rein said, "I'm very concerned about Trump underestimating the resolve of President Xi to demonstrate to the world that China is now a rival superpower to the United States."
Shaun Rein is a speaker at the China Speakers Bureau. Do you need him at your meeting or conference? Do get in touch or fill in our speakers' request form.
Are you looking for more political experts at the China Speakers Bureau? Do check out this list.
Please follow and like us: