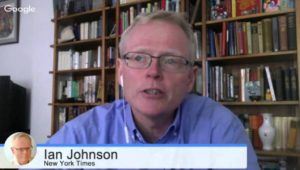 Journalist Ian Johnson, author of The Souls of China: The Return of Religion After Mao, is working on his next book documenting how writers, thinkers, and artists are dealing with the new, more repressive policies in China. He visited citizen journalist Zhang Shihe near Xi'an for an extensive interview. First, he describes Zhang's position for the New York Review of Books.
Ian Johnson:
"Tiger Temple" (Laohu Miao) is the nom de guerre of Zhang Shihe, one of China's best-known citizen journalists and makers of short video documentaries, many of them profiling ordinary people he met during extraordinarily long bike rides through China, or human rights activists who have been silenced but whose ideas on freedom and open society he has recorded for future generations.

Now sixty-five years old, Zhang belongs to a generation of people like leader Xi Jinping who came of age during the Cultural Revolution. Also like Xi, Zhang was a child of the country's Communist elite. His father had been a Public Security Bureau official in China's Northwest, which was also the base of Xi's father, Xi Zhongxun. Zhang's father was a rung lower on the ladder, but still ended his career with the rank of vice-minister.

And like the Xi family, the Zhangs suffered during the Cultural Revolution. Xi was sent off to a remote village to labor, while Zhang Shihe was a child laborer who helped build a treacherous mountain railway line. But the two reacted differently to their fates. When the turmoil ended in the late 1970s, Xi grasped every opportunity to make up for lost time and launch his political career. Zhang, however, used the freedoms of the new era to explore how China had gone off the rails.

He did this by interviewing China's downtrodden, becoming a pioneering "citizen journalist," a breed of self-taught activists who used the newly emerging digital technologies to record interviews and post them online, thus bypassing—for about a decade starting in the early 2000s—traditional forms of censorship.

After nearly twenty years in Beijing, Zhang was caught up in the hardening political climate and, in 2011, sent him back to his hometown of Xi'an. This is the most important metropolis in western China and also one of the country's most famous ancient cities. I went there with the help of a Pulitzer Center travel grant late last year to find out how civil society was faring outside of the narrow confines of Beijing.

The interview below is part of a bigger project I've been pursuing to look at how writers, thinkers, and artists are dealing with the new, more repressive policies in China. As I'll explore in subsequent posts and an essay in the Review, I found in Xi'an a surprisingly thriving, if small, ecosystem of critical journalists and thinkers.

Zhang lives in the eastern reaches of Xi'an, in a district called Ba River, which is one of the rivers that bounds the city. In ancient times, it was the place where travelers to the empire's provinces took leave of friends, and was mentioned by so many great Chinese poets that it became synonymous with melancholy and loss.

When I visited, I found another sort of tristesse: the drab uniformity of modern Chinese cities. The Ba still flows but the area is now a series of endless housing compounds of fifteen-story buildings divided by razor wire and faceless streets. One subway line serves the area, its stations made of corrugated iron that was being hammered by rain when I arrived.
The whole interview you can read at the New York Review of Books.
Ian Johnson is a speaker at the China Speakers Bureau. Do you need him at your meeting or conference? Do get in touch or fill in our speakers' request form.
Are you looking for more media experts at the China Speakers Bureau? Do check out this list.
Please follow and like us: