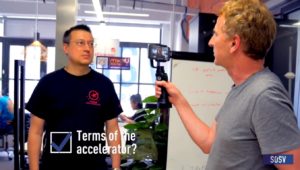 A dramatic consolidation has made life tough for all startups in China, including those focusing on travel, says William Bao Bean, the managing director of the Chinaccelerator, China's first and leading startup accelerator based in Shanghai, to Phocuswire. Opportunities he still sees for the fast-growing number of outbound Chinese tourists.
Phocuswire:
William Bao Bean has been active in startups and investing in Asia since 2004, and he says in the last few years there has been dramatic consolidation – similar to what has happened in other technology sectors – that has left three dominant players: Alibaba, Tencent and Ctrip.

"This makes it challenging to be a startup," he says.

"It's almost like the mice trying to run around while three elephants are walking around. And every once in a while they'll accidentally – or maybe on purpose – step on the mice and there's nothing the mice can do about it."

To survive in what he says is one of the most competitive markets in the world, startups must provide something that is truly unique and useful.

"Going back five or 10 years, all you needed to do was show up and run faster than the next guy and you could build a pretty decent business," Bean says.
"Whereas now you need to actually provide an order of magnitude better service in order to make a play."
But even with a superior product, survival is not guaranteed. Companies trying to reach a meaningful segment of China's more than 1.4 billion residents need deep marketing budgets to pay for exposure on WeChat, Baidu and other mobile platforms.

"Everywhere in the world customer acquisition cost is high, but in China it's really, really high," Bean says.

"In the U.S. you might be able to spend $2 or $5 to get a user. In China, to get a user to download an app and open it once, it's between $5 and $100."

So where are there opportunities for travel startups in China? Bean sees potential in areas such as experiences, particularly those offering unique, specialized products, and for startups that can create benefits for existing travel suppliers.

One example that SOSV has invested in: U.S.-based Portier Technologies, which puts mobile phones in luxury hotel rooms, giving guests access to free data and minutes and giving the hotels a cut of revenue from services booked through the phone.

But for non-Chinese companies such as Portier to succeed in that market, Bean says they need local market knowledge.

"So if you are a big global player, you basically have to have a China play. But the issue is the infrastructure, the market, how you advertise, how you retain. Everything in China is a bit different," he says.

Bean cites Airbnb, a company his firm has worked with to understand the Chinese market, as an example of the learning curve.

"Chinese culturally generally do not like being hosts. They really, really do not want some random person in their frickin' house," he says.

"But the funny thing is, Chinese are perfectly willing to go live in somebody else's house – especially if it's in a nice neighborhood, in Los Angeles, in the hills. They love that. So Airbnb has not done particularly well signing up hosts, but they've been very successful at signing up Chinese who are traveling abroad."

Bean says the very large outbound market of travelers wanting new, unique and local experiences provides many opportunities for innovation.

"As an investor, will I do another online travel agency? No. But there is still a lot of opportunity around travel, and there is still a lot of money to be made."
William Bao Bean is a speaker at the China Speakers Bureau. Do you need him at your meeting or conference? Do get in touch or fill in our speakers' request form.
Are you looking for more experts on innovation at the China Speakers Bureau? Do check out this list.
Please follow and like us: