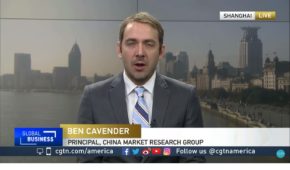 In a new trend, China brands are looking to cross traditional borders, seeking more synergy, says retail expert Ben Cavender to the China Daily. "Part of the challenge is in making the product meaningful to consumers," said Cavender.
The China Daily:
Crossover retail or brands building cooperation with each other for new products is the new buzzword for companies looking to gain an edge in China's rapidly changing retail marketplace.

New crossover products that have made waves recently include a creamy candy shaped lip balm infused with White Rabbit creamy candy, a bottle of pink perfume jointly developed by baijiu maker Luzhou Laojiao, and a paprika lipstick from fast food chain Zhouheiya whose signature product is spicy duck necks. The lipsticks launched by US soft drink brand Coca-Cola and South Korean makeup brand Face Shop have the smell of Coca-Cola.

"There is definitely a broader trend toward brand collaboration happening globally and especially in China," said Ben Cavender, principal of Shanghai-based China Market Research Group (CMR). It allows brands to connect with a broader group of consumers and imbibes a feeling of nostalgia, he said.

Millennials, or those people born after 1980, have been the face of the crossover shopping. For many like Dong Biyong, a millennial shopper, the crossover products are fond remembrances of her childhood. "I was extremely upset after I failed to get the creamy lip balm on the debut day, but luckily enough could get some later," said Dong.

She was referring to the lip balm launched by White Rabbit creamy candy and Maxam, a brand owned by cosmetics maker Shanghai Jahwa…

CMR's Cavender said the crossover trend has not necessarily been just with cosmetics, but also with apparel brands. An example in this regard is the streetwear brand Supreme doing collaborations with Louis Vuitton.

Regardless of the specific crossover product category, analysts suggest there are challenges for brands in seeking an alternative product other than their specialty.

"Quite a few crossover products have been launched. But not all of them can be termed successful," said Jin Qiaoying, research director of the beauty and personal care sector at Mintel China.

"Part of the challenge is in making the product meaningful to consumers," said Cavender.

If consumers don't have affection for both brands they are unlikely to buy, so there has to be good brand synergy and retailers need to understand their target customer well, he added.
Ben Cavender is a speaker at the China Speakers Bureau. Do you need him at your meeting or conference? Do get in touch or fill in our speakers' request form.
Are you looking for more branding experts at the China Speakers Bureau? Do check out this list.
Please follow and like us: