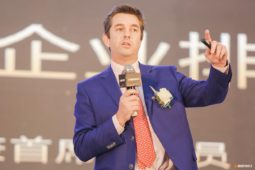 Global gloom has hit billionaires worldwide, but especially in China, as 213 lost their position at the China Hurun rich list. Globally 430 dropped off the global edition. Poor performance of the stock markets mainly caused the drop, says Rupert Hoogewerf, chief researcher of the Hurun rich list in the South China Morning Post.
The South China Morning Post:
A record 213 Chinese billionaires dropped out of the widely watched Hurun Global Rich List, as slumping stock markets worldwide wiped out a combined US$1 trillion from the fortunes of the world's wealthiest individuals, a report released on Tuesday showed.
Only 658 super-rich individuals living in the Greater China region made it to the 2019 list, down from 819 last year.

The squeeze felt by Chinese billionaires was much deeper than their peers in other countries, as the country's worst stock market performance in four years was compounded by a weak yuan.
A year-long bearish stock market, partly attributed to the trade dispute between the United States and China and partly caused by a slowing economy and Beijing's deleveraging campaign, saw the Shanghai Composite Index drop 25.7 per cent year on year as of January 31 – the cut-off date for the Hurun list. During the same period the Chinese stock market lost 13 trillion yuan (US$1.9 trillion) in market capitalisation.
"A big drop in the Chinese stock market coupled with a 6 per cent drop in the Chinese yuan were the main causes of the drop in [the number of billionaires from] China," said Rupert Hoogewerf, chairman and chief researcher at Hurun Report, which compiles the list of individuals with a wealth of more than US$1 billion.
More in the South China Morning Post.
An overview of the global figures at Barrons.
Rupert Hoogewerf is a speaker at the China Speakers Bureau. Do you need him at your meeting or conference? Do get in touch or fill in our speakers' request form.
Are you looking for more stories by Rupert Hoogewerf? Do check out this list.
Please follow and like us: