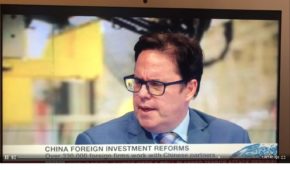 China is overhauling its now 30-years old regulations for cosmetics, a fast-growing industry of now 260 billion Renminbi (euro 34 billion). The new rules remove some of the red tape, says lawyer Mark Schaub, but also gives the authorities more leverage over the industry, he writes at the China Law Insight.
Mark Schaub
The Regulations on Hygiene Supervision of Cosmetics (<化妆品卫生监督条例>) ("Current Regulation")[2] are the most important and also primary regulation that currently governs the production of cosmetics and the operation of cosmetics companies in China. As the Current Regulation was passed a long time ago (actually when there was still a Soviet Union) and a lot has happened in China ever since, it is more and more obvious that the Current Regulation is too outdated to deal with new issues that continue to emerge in the cosmetics industry.

The Chinese authorities have taken measures to improve the regulatory framework under the Current Regulation to meet changing needs of the market and also of an industry that has evolved towards increasing complexity but the time is nigh that the Current Regulation  is now ripe to bow out after almost thirty years since first being published

The much awaited second draft of Regulations on Supervision and Administration of Cosmetics (<化妆品监督管理条例 (草案)>) ("Second Draft")[3] was circulated for comment amongst cosmetics industry associations and stakeholders back in August 2018. A final draft is anticipated to be issued in the near future and when this happens it will replace the Current Regulation…

For overseas cosmetics manufacturers the Second Draft provides more market access; less red tape and more certainty. On the negative side the Second Draft will increase obligations and expands the types of measures the Chinese authorities can take. However, none of the measures are highly surprising and the triggers for taking action are also reasonable. Few international manufacturers are likely to be anxious about such measures. It would be wise for overseas manufacturers to monitor the progress of the new Chinese regulations on cosmetics as they will not bring just increased levels of responsibilities but very welcome market access and clarity.
More details at the China Law Insight.
Mark Schaub is a speaker at the China Speakers Bureau. Do you need him at your meeting or conference? Do get in touch or fill in our speakers' request form.
Are you looking for more political experts at the China Speakers Bureau? Do check out this list.
Please follow and like us: