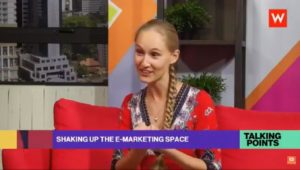 Marketing expert Ashley Dudarenok dives into the fast-changing landscape of China's internet, especially Bytedance. The relative newcomer has become an established player next to the old trinity of Baidu, Alibaba, and Tencent (BAT). She looks at some of Bytedance's major operations: Jinri Toutiao and Douyin, and Bytebance's international expansion for Asia Times.
Ashley Dudarenok:
ByteDance has ambitious expansion plans outside China. Founder and CEO Zhang Yiming announced at the company's sixth year-end gala in March 2018 that the company wants to become a global content creation and communication platform and that they will focus on globalization this year.

ByteDance recently attracted notice in the West after acquiring Musical.ly, the mobile app that's very popular among young people in the US Topbuzz, the English version of Toutiao was also launched in North and South America three years ago to expand its global presence. The rising giant also bought France-based media aggregation service News Republic in 2017 and invested in Indian news app Dailyhunt in 2016.

Outside of news aggregation, ByteDance also wants to increase its market share in video platforms and mobile entertainment apps. It acquired US video creation app Flipagram in early 2017. Then in November 2017, it invested $50 million in Live.me, a successful mobile streaming app that's focused on the US market.

By rolling out its own products and acquiring others, ByteDance has successfully amplified its global presence to grab market share in Japan, India, Southeast Asia, Europe, North America and South America. Yet the brand itself is not as well-known as the top three – BAT – locally or overseas. Many people have only heard of their apps and can't connect them to their parent company. As a result, in April 2018, Toutiao confirmed that they will use 'ByteDance' from now on as the brand name for external communication and marketing. This is an obvious signal that ByteDance is gearing up for branding and firmly establishing its image as an industry leader in China's tech scene and beyond.
Ashley Dudarenok is a speaker at the China Speakers Bureau. Do you need her at your meeting or conference? Do get in touch or fill in our speakers' request form.
Are you looking for more experts on China's digital transformation? Do check out this list.
Please follow and like us: