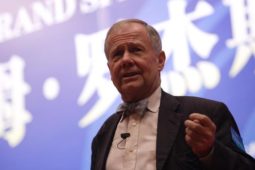 The trade war between China and the US is taking another casualty, says super-investor Jim Rogers: the US dollar. He will no longer bet on the US currency, as a downturn is nearing fast in a few years' time, he tells according to News Max. Although for gamblers, buying US dollars for the short run might be an opportunity. In the long run he will switch to China's renminbi or gold.
News Max:
International investor Jim Rogers reportedly says "doomed" dollar fundamentals are "horrible," but he's buying it to prepare for the U.S. currency's last-gasp rally.

"People would think the U.S. dollar is a safe haven, it's not. The fundamentals are horrible," the chairman of Rogers Holdings told Real Vision in a recent interview.

"Nobody in his right mind would buy the U.S. dollar, but I own a lot…because I'm not in my right mind. I'm assuming that the rest of the world is not in its mind either and they're all going to buy it," said Rogers.

He predicts the dollar will eventually get overpriced and turn into a bubble, and then the veteran investor, who founded the Quantum Fund with billionaire George Soros in the 1970s, will sell, MarketWatch explained.

"I'm not very good at market timing but I would expect it to be in the next period of turmoil, which will be coming in the next two or three years," he said.

He doesn't hold out much hope for the American economy because while he claims the U.S. is "the biggest debtor nation in the history of the world," countries such as China, Russia and Brazil are seeking an alternate international currency.
Jim Rogers is a speaker at the China Speakers Bureau. Do you need him at your meeting or conference? Do get in touch or fill in our speakers' request form.
Are you looking for more guidance on your China risk from the experts at the China Speakers Bureau? Do check out this list.
Please follow and like us: