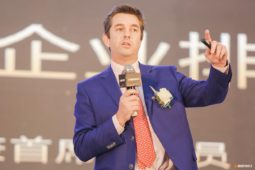 For the first time in 21 years the annual Hurun (China) rich list notes fewer wealthy people, says its chairman Rupert Hoogewerf to AFP. "Nearly 40 percent of those in the rich list two years ago has dropped off," he said.
AFP:
The number of ultra-wealthy individuals dipped in China this year, a report said Thursday, as the government seeks to rebalance the economy and tackle high levels of toxic debt.

Those listed as the wealthiest — with holdings worth at least 2 billion yuan ($281 million) — fell to 1,819 this year, down from 1,893 last year, according to data compiled by the Hurun Report.

"This is the first time in 21 years that the Hurun (China) Rich List has shrunk for two consecutive years," said Hurun Report chairman Rupert Hoogewerf.

"The only other years the list shrunk, and only very slightly, were in 2008 at the time of the global financial crisis and in 2002 after the tech bubble burst."

Traditional sectors such as manufacturing and real estate have suffered as companies "caught up in too much debt" have started shedding assets, affecting their founders' net worth, Hoogewerf added.

"Nearly 40 percent of those in the rich list two years ago has dropped off," he said. "It's part of a very conscious decision by the Chinese government to try and restructure the economy."

Billionaires who made their money in IT, pharmaceuticals and education were replacing the old guard…

With a younger generation of entrepreneurs making their way up the rankings, 39-year-old Colin Huang Zheng, of e-commerce site Pinduoduo, became the first self-made entrepreneur born in the 1980s to enter the top 10.

"Colin Huang has created a world first, making $20 billion since founding Pinduoduo just four years ago," Hoogewerf said.

"Nobody in the world has ever made that much from a standing start."

Eleven people born in the 1990s also made the list.
Rupert Hoogewerf is a speaker at the China Speakers Bureau. Do you need him at your meeting or conference? Do get in touch or fill in our speakers' request form.
Are you looking for more strategic experts at the China Speakers Bureau? Do check out this list.
Please follow and like us: