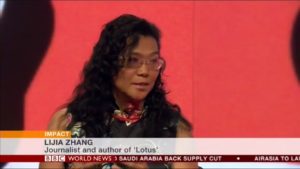 China's women are no longer satisfied with the marriages they took in the past for granted, says Zhang Lijia, journalist and author of Lotus: A Novel on prostitution in China, in the South China Morning Post. "Although gradually easing, there's still stigma attached to divorce," she adds.
Zhang Lijia:
Although gradually easing, there's still stigma attached to divorce. My mother never told the neighbours about my divorce, which took place almost 14 years ago. "Why should I hang out the dirty laundry?" she would say. For her, divorce was a disgrace for the woman and her family. Luckily, these days, her view has become less common and divorce is more tolerated, especially in cities.
The rising number of divorces has apparently

upset the authorities

. Obsessed with maintaining stability, they see massive numbers of divorces as a destabilising force and have stepped up efforts at curbing the trend.

In 2016, the Supreme People's Court instructed judges to balance respecting people's wishes with defending stable families, which, in their view, is the basis for a harmonious society. Last year, local courts introduced methods such as a cooling-off period, free mediation and even a quiz to deter couples from seeking a divorce.

There's little surprise that more than half of the filed divorce cases were rejected by courts.

The government shouldn't have bothered to interfere. Of course, divorce should never be taken lightly, especially when children are involved. Still, restricting wives from getting out of a bad marriage will reduce women's freedom and agency. In any case, it is a woman's civil right, which must be respected. Even if divorce is not good for society, are miserable women better for it?
The fact that women are driving divorce in China is in line with the trajectory of a developing country in the middle of rapid modernisation. In developed nations such as US and Britain, more women file for divorce than men. It's not that terrifying in a modern world, where the types of family have become more diverse.
More at the South China Morning Post.
Zhang Lijia is a speaker at the China Speaker Bureau. Do you need her at your meeting or conference? Do get in touch or fill in our speakers' request form.
Are you looking for more experts on cultural change? Do check out this list.
Please follow and like us: