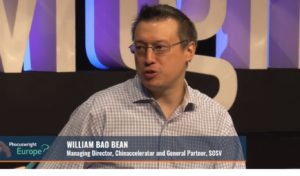 When companies cannot pay enough, they often give their key people fancy titles, like Chief Marketing Officer (CMO). But startup guru William Bao Bean, the managing director of Shanghai-based startup accelerator Chinaccelerator, warns against titles with a 'C' in it, unless it is your CEO, especially when you are a startup, he tells Phocuswire.
Phocuswire:
When you have a startup, you don't put the word 'C' in too many titles, except for CEO," says Bao Bean.

"The skills required in the early days are different from the skills required later, and it's often hard to demote people."

Bao Bean says that startups should avoid bringing on a CMO because "a startup by definition is looking for scalability and repeatability and there is no point in selling something that is not scalable and repeatable.

"Startups shouldn't hire a CMO until they have something in the market, and you don't have something in the market until its scalable and repeatable."

Bao Bean says that companies with a CMO generally have "product, market and fit," but an early stage startup likely hasn't achieved this yet because it doesn't have a product that people want.

"A startup is like a party where once you get into the front door, there's no one there. A customer journey needs to be in place."…

Instead of hiring a CMO, Bao Bean recommends filling a head of growth role first.

"You need a head of growth from day one," he says. "You never move from startup to company without somebody who's using data to drive a startup."

Eventually, once "product, market and fit" is achieved, then it is time to split marketing responsibilities away from the head of growth and to hire someone to fill up the funnel.
William Bao Bean is a speaker at the China Speakers Bureau. Do you need him at your meeting or conference? Do get in touch or fill in our speakers' request form.
Are you looking for more strategic experts at the China Speakers Bureau? Do check out this list.
Please follow and like us: