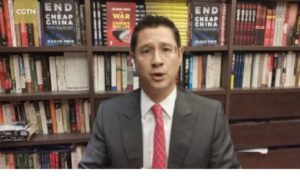 Shanghai-based business analyst Shaun Rein was with his family on a well-deserved holiday as the fallout of the corona virus crisis caught up with his trip. Panic is spreading over the world, especially now in the US. Rein is back in Shanghai and feels himself more safe than in some of the countries he has been in over the past few months, he tells at CGTN, although there is a lot room for improvement in China too.
CGTN:
With over 145 countries in the grip of the global pandemic and many nations imposing extreme travel restrictions, international tourism is perhaps the last thing on an individual's mind right now. However, this wasn't the case in late January, when Shaun Rein and his family left for an African safari to celebrate the Chinese New Year holidays.

"When the coronavirus hit China, we had already planned our safari to Tanzania and Kenya. So, actually on January 24, we were on an airplane going to see lions, and rhinoceroses, and elephants in Africa. And so, we went there, and we had a wonderful 10 days," Rein, the founder of the China Market Research Group and an author of three books on China, told CGTN Digital in a WeChat video interview.

Back in China, Wuhan in Hubei Province – the epicenter of the outbreak – was put under lockdown on January 23 but the world hadn't yet grasped the global implication of the contagion. The situation rapidly aggravated over the next week with thousands of cases emanating from different parts of China and a few from abroad persuading the World Health Organization (WHO) to declare COVID-19 a global healthcare emergency on January 30. In the days since, several airlines suspended their flights to and from China.

"We were getting concerned each day as the number of cases in Wuhan and Hubei and the rest of China were slowly creeping up. And then at the end of our safari, on February 6, my wife and son were trying to fly back from Dubai but their Emirates flight to Shanghai was cancelled," Rein said, remembering the first instance he realized that they were stranded.

Rein has lived in China for the past 23 years and authored three best-selling books on the miraculous growth story of the world's second-largest economy.

From Dubai, Rein left for Australia where he had to deliver a speech while his family went to neighboring Oman. Later, his flight from Australia to China was cancelled too. "I went to Melbourne and Sydney and then transited through Bangkok before meeting my family in Oman. And for the last six weeks, we ended up travelling around the Middle East, from country to country to find safe haven. Also, when our visas ran out, we had to move to another country," he said, recalling the days as "exiles" in foreign lands.

"So, for most of the last three and a half weeks, we were actually in the United Arab Emirates (UAE) and a kingdom (emirate) called Ajman. Then we decided that it probably would be safest to come back to China because we've been impressed with how the Chinese government has dealt with the situation," he added.
Shaun Rein is a speaker at the China Speakers Bureau. Do you need him at your meeting or conference? Do get in touch or fill in our speakers' request form.
Are you looking for more experts in managing your China risk? Do check out this list.
Please follow and like us: