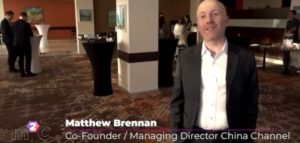 Bytedance's Tiktok is a very successful global video-platform, and one of the few with a background in China. China internet watcher Matthew Brennan, author of "Attention Factory: The Story of Tiktok and China's Bytedance, explains what makes Tiktok so successful. Getting feedback from its users is one of the key differences with other platforms, he tells in Explica.
Explica:
The application uses a very powerful recommendation algorithm, which adapts to needs and interests of each one of the accounts associated with your database. Proof that this mechanism works is that, as of today, it has registered 800 million monthly active users.

In an interview with BBC Mundo magazine, Chinese technology and innovation specialist Matthew Brennan highlighted the following regarding the engineering team that TikTok has:

«There is no small team behind. It is one of the largest internet companies in China. Employs thousands of people. If TikTok has grown so fast is due to the experience of its engineers as it operates the best recommendation engine in the competitive Chinese market.>>

According to Brennan, author of Attention Factory: The Story of TikTok and China's ByteDance, this platform is being a major rival to Instagram and YouTube. Both social networks offer the option to upload videos of different lengths, which people search in their spare time according to your personal interests or search for individual social status.

What is the difference with other similar platforms?

The main difference that Brennan finds with other digital platforms, such as YouTube or Netflix, is that the user does not interact with the screen. In the case of TikTok, yes. For this reason, the app receives much more feedback from its consumers.
Matthew Brennan is a speaker at the China Speakers Bureau. Do you need him at your (online) meeting or conference? Do get in touch or fill in our speakers' request form.
Are you looking for more innovation experts at the China Speakers BUreau? Do check out this list.
Please follow and like us: