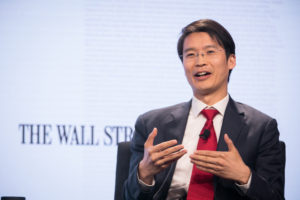 Renowned speaker Winston Wenyan Ma has decided to join the China Speakers Bureau. Winston Ma is a former managing director at China Investment Corporation (CIC), adjunct professor at NYU, investor, attorney, and author on the global digital economy.
He wrote books and speaks on the following subjects:
The Digital War: How China's Tech Power Shapes the Future of AI, Blockchain and Cyberspace
The Hunt for Unicorns: How Sovereign Funds Are Reshaping Investment in the Digital Economy
China's Mobile Economy: Opportunities in the Largest and Fastest Information Consumption Boom
and additionally: China's sovereign funds, China's digital Belt and Road Initiative, big data and asset management, data regulation, privacy, blockchain, and digital currencies.
The China Speakers Bureau is happy to welcome Winston Ma as a speaker. You can read his full profile here. Do you need him at your (online) meeting or conference? Do get in touch or fill  in our speakers' request form.
Please follow and like us: