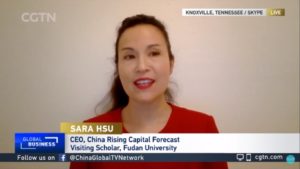 Investors worldwide have been watching developments at Evergrande, China's second largest real estate company,  as it struggled to repay its gargantuan debts. But while the problems are serious, financial analyst Sara Hsu does not expect a full collapse of the giant, she tells the commercial observer.
The Commercial Observer:
Evergrande is part of a sector that comprises as much as 28 percent of China's economy, per the Financial Times. While real estate has been in a "bubble" for the last 15 years, cracks are starting to show as a result of the government "cracking down on risky property developers," said Sara Hsu, visiting scholar at Shanghai-based Fudan University. "I think many people are aware of the real estate bubble in China, but it has not been vulnerable because the government hasn't allowed it to be."

The problem is that with few other good assets to fund, "investors continue to purchase properties and prices continue to rise," added Hsu, who is an expert in Chinese fintech, economic development, informal finance and shadow banking…

So what's going to happen to Evergrande?

Hsu thinks the government will step in to prevent a collapse and to stabilize things.

"The government is likely to force Evergrande to repay as much of its debt as possible, and [will] step in at the last minute to shore up obligations that might create systemic risk if they are defaulted upon," she said.
More at the Commercial Observer.
Sara Hsu is a speaker at the China Speakers Bureau. Do you need her at your (online) conference or meeting? Do get in touch or fill in our speakers' request form.
Are you looking for more political experts at the China Speakers Bureau? Do check out this list.
Please follow and like us: