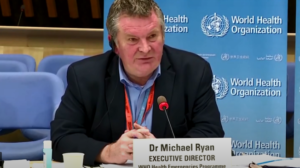 The exit of the Zero-Covid policy in China was not the cause of the rampant spread of the virus, or triggered by the protests, but was already spreading unstoppable for a longer time, according to the World Health Organization, writes Reuters. WHO's emergency director Mike Ryan described the end of the zero-Covid policy as an unavoidable strategic decision on Wednesday 14 December.
Reuters:
Speaking at a briefing with media, he said the virus was spreading "intensively" in the nation long before the lifting of restrictions.

"There's a narrative at the moment that China lifted the restrictions and all of a sudden the disease is out of control," he said.

"The disease was spreading intensively because I believe the control measures in themselves were not stopping the disease. And I believe China decided strategically that was not the best option anymore."

Beijing started pivoting away from its signature "zero-COVID" policy this month after protests against the economically damaging curbs championed by President Xi Jinping.

The sudden loosening of restrictions has sparked long queues outside fever clinics in a worrying sign that a wave of infections is building, even though official tallies of new cases have trended lower recently as authorities eased back on testing…

Earlier in the briefing, WHO chief Tedros Adhanom Ghebreyesus said he was "hopeful" that the pandemic, which has killed more than 6.6 million people since it emerged in Wuhan, China three years ago, will no longer be considered a global emergency some time next year.
Please follow and like us: