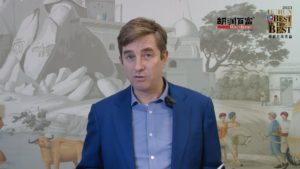 Even during the current economic headwinds, private brands continue to get the trust of China's consumers, says Hurun chairman Rupert Hoogewerf, among the 2022 China Hurun Brands'List, where Shanghai-listed Kweichow Moutai even outranked the technology giants as Tencent and Alibaba, reports the South China Morning Post.
The South China Morning Post:
Shanghai-listed Kweichow Moutai was the most valuable Chinese brand for a fifth straight year, according to the 2022 Hurun Brands List. The liquor maker, which is also one of the most valuable stocks in the country, was the only brand on the list with value of more than 1 trillion yuan (US$145.2 billion).
The liquor giant's brand value – measured through openly available economic data and surveys among consumers – was equivalent to the total values of the next six brands that followed it on the list: Shenzhen-listed liquor maker Wuliangye Yibin, Shanghai Tobacco's China Tobacco, ByteDance's Douyin, WeChat and parent firm Tencent Holdings, and JD.com, Hurun said. The rankings have been calculated according to the market value of listed companies based on their stocks' closing prices on July 29 last year, and their peers' price-to-earnings ratios for private firms.
"Chinese consumers' trust in private brands has obviously strengthened in the recent few years. [About] 62 per cent of the companies in the ranking were brands by the private sector, compared with 61 per cent a year ago and 39 per cent a decade ago," Rupert Hoogewerf, Hurun's chairman, said in a statement.
More at the South China Morning Post.
Rupert Hoogewerf is a speaker at the China Speakers Bureau. Do you need him at your meeting or conference? Do get in touch or fill in our speakers' request form.
Are you looking for more consumer experts at the China Speakers Bureau? Do check out this list.
Please follow and like us: